As I have mentioned time and time again that I love shoes. Being 5'0, I can get away with wearing crazy heels. However, I save these for special occasions and I do not always wear them (although I probably should). I am more of a flat shoe gal or even a chunky heel. But I do admire shoes. I admire them a lot!
When

Farfetch

asked me to write a piece of their new collaboration with Aquazzura, I couldn't say no!! There are 4 great statement pieces to chose from; Deena, Pascaline, Claire and Holli. I suggest you all get a chance to look at them because they really are a piece of work.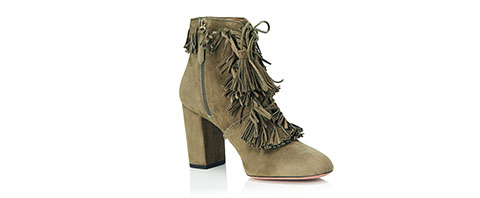 Pascaline Boot
I loved all four shoes but there was one shoe that really caught my eye. That was the Pascaline boot. I love teaming boots up with dresses and as I am short (have I mentioned that before) a mini dress and boots are my ultimate favourite; both casual and going out. I've teamed up this boots with the following items which you can also purchase from Farfetch. I thought this look was quirky and cool and something that I would wear. So go and shop your own amazing pair of Aquazzura shoes and let me know how you would style them.
Chiara Ferragni beani hat